Sunday, October 7, 2023
Arrival & Setup @ 4:30 pm
Dinner will be served at 5:00 pm
If the Buckeyes are playing, the game
will be on in the clubhouse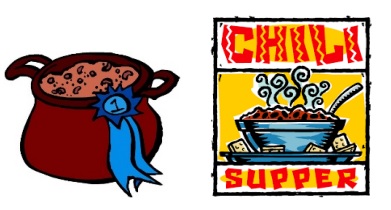 Mild or spicy?
Beef chili?
Turkey chili?
Vegetarian chili?
White chicken chili?
Beans/no beans?
YOU DECIDE

Adult Menu:
Chili (mild or spicy) - Crackers - Breads- Desserts - Soda or water
Kids Menu: (Should yours prefer a chili alternative) Hot dog - Chips - Desserts - Soda or water

Toppings will be provided (onions, shredded cheese, sour cream, crackers, etc.)
IT IS NOT REQUIRED THAT YOU MAKE CHILI FOR THE COOKOFF TO ATTEND & ENJOY THIS EVENT!

If you DO plan to participate in the cookoff, bring a large pot of your favorite HOMEMADE CHILI recipe (serves 12-15) to the event.
Also bring:
A copy of your recipe if you are willing to share -- we hope you do!
Label your chili pot SPICY or MILD. Attendees will vote on a winner for both categories!!!!!
Please include an allergen statement if your recip contains any of the following: eggs, cows milk, tree nuts, peanuts, shellfish, wheat, or soy.
RESERVATION DEADLINE: September 30
Click here for more information and reservations.